Equitable Impact Initiative
During 2021, the pandemic highlighted persistent inequities in wealth, housing, education, and health for communities of color and other marginalized populations. To combat these ills, we launched our Equitable Impact Initiative, a multi-year $50 million commitment to key organizations and programs designed to reduce social and economic disparities in underserved communities.
As a result of this Initiative, the SoLa Black Impact Fund will receive a $30 million investment to support prosperity and racial equity within Black and Brown communities. In addition, the SDS Supportive Housing Fund will receive a $15 million investment to finance approximately 1,800 new units of permanent supportive housing for people currently experiencing homelessness within communities that are predominantly minority.
Other key partners for this initiative include Local Initiatives Support Corporation Los Angeles (LISC LA), which received $150,000 to help its efforts in transforming underserved neighborhoods. In addition, Community Capital Management will receive a $5 million contribution to its Minority CARES initiative, which will enable it to invest in market-rate, investment-grade bonds to increase opportunity for people of color. The California Reinvestment Coalition (CRC) Resilience Fund will also receive a $500,000 grant over two years to help minority-owned small businesses and communities of color disproportionately impacted by the pandemic.
Together, these and other efforts supported by our Equitable Impact Initiative are making a tangible difference in the communities we serve.

LISC LA
Local Initiatives Support Corporation Los Angeles (LISC LA) is one of 31 offices of the Local Initiatives Support Corporation, a national nonprofit organization transforming underserved neighborhoods into thriving communities of opportunity and choice. Pacific Premier donated $150,000 to LISC LA in 2021 and volunteered 15 hours serving on the Advisory Committee. This allowed LISC LA to launch a first-of-its-kind business accelerator program, the Black Business Excellence Technical Assistance Initiative (BBET).
The BBET initiative is a 10-week program helping those in the personal care sector, a business segment particularly hard-hit by the pandemic.
"Many of the business owners in this space had their livelihoods threatened and had feelings of being isolated and without support," according to Tunua Thrash-Ntuk, Executive Director, LISC LA.
As part of the BBET program, these businesses have access to 10 training modules led by industry experts in the field, as well as weekly mentoring from a business provider, networking opportunities, and pitch opportunities.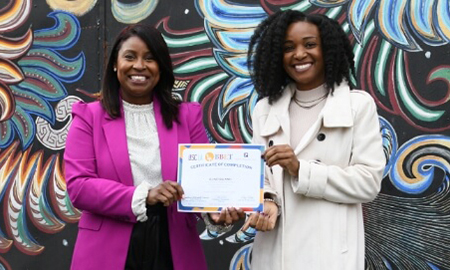 "Without Pacific Premier's willingness to help, our vision for this program would never have happened."
Executive Director, LISC LA